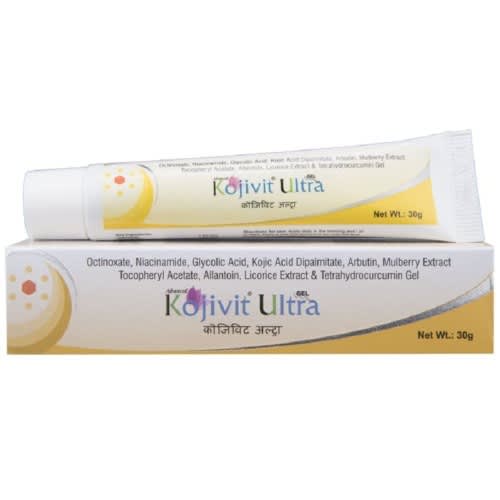 ₦6,950
Kojivit Ultra Gel is a dermatological (for skin use) product that is indicated for melasma/hyperpigmentation. It is used as a skin-lightening agent to lighten the darkened skin due to sun damage, freckles, and age spots. It also reduces the formation of wrinkles and fine lines. It further improves skin tone and texture by preventing skin discolouration.
In stock
Ingredients
Octinoxate, Niacinamide, Glycolic acid, Kojic acid, Arbutin, Mulberry extract, Tocopherol acetate, Allantoin, Liquorice extract, Tetrahydrocurcuminoids, Cetearyl Alcohol and Ceteareth-20, Glyceryl Stearate and Peg-100 Stearate, White soft paraffin, Sorbitan Olivate, Cetostearyl Alcohol, Butylated Hydroxytoluene, Butylated hydroxyanisole, Methylparaben, Propylparaben, Disodium Edetate, Polyacrylamide, C13-14 lsoparaffin and Laureth-7, Propylene Glycol, Simethicone 350, Isopropyl Myristate, Isopropyl Palmitate, Aloevera Juice, Perfume (Lilac 2035), Sodium Hydroxide, Purified Water.
Directions
Apply a thin layer of gel with clean and dry hands on the skin's affected areas. Gently rub the medicine into the skin. Wash your hands before and after applying on the affected areas unless the treatment is for hands.